Choosing the perfect AR-15 rifle case isn't an easy thing to do, especially if you're willing to invest in a quality piece that will last for years to come. So choosing the best rifle case is key.
Here are a few things to consider when trying to decide which rifle case to buy.
The Purpose of a Rifle Case
First, get clear on the purpose of the rifle case you want to buy. Everyone has different needs and wants for their AR 15 rifle case, so one size definitely doesn't fit all.
Making your rifle easier to transport and keeping it safe is arguably the most important function of your rifle case. But it goes deeper than that. What is the overall function?
Do you need a case that will stand up to the wear and tear of traveling in the back of your truck? Do you just want it to carry your gun from your safe to the range? Most rifle case options will allow you to do either of those things, but it's in your best interest to determine what the primary function will be before you begin shopping.
With that in mind, use this guide to take a look at the most important elements of your case. Most people will start with the soft case or a hard case debate, but we are going to take a different approach and address that dead last.
Weight
Let's get started with the heaviest of all the questions when it comes to choosing your rifle case. How big of a deal is the weight of the case to you? Are you carrying this bag over the mountain and through the woods to your grandmother's house?
If you are using your rifle case to transport your rifle from home to the range and back again, weight is not going to be your number one concern. Weight is more important for carrying your rifle case for long periods or through difficult terrain.
A soft case will help lower your overall carry weight and allow you to backpack carry your bag.
With soft rifle cases, you lose the tough exterior shell of a hard rifle case, but a high-quality soft rifle case will still offer great padding for protection. They just don't offer the hardened outer shell that allows you to throw your rifle around while it's in the case.
Size
The elephant in the room: size. You have got to consider how long and wide your rifle is with all its accessories and must-have items. Then start looking around for available rifle case lengths.
The most popular rifle case lengths for AR-15 rifles are 36″ and 42″ rifle cases as these two sizes fit most barrel length configurations.
You definitely don't want to get something that's too loose or too tight on your rifle and gear. That never ends well.
Materials
It goes without saying, but we will say it anyway, all materials aren't created equal. There are a number of materials you will come across in your search for your new rifle case. Here are a few things to consider when you are trying to figure out how to choose a rifle case.
Rifle Case Exterior
Hard rifle cases are typically injection-molded plastic and can withstand hundreds of pounds of pressure, depending on the specifications of the rifle case. It is extremely important to know what your hard rifle case is made of, so you know your case's limits and know how well it will protect your rifle.
High-quality soft rifle cases are made with high-denier nylon, typically Cordura, and double stitched for increased durability. Cordura is a brand of fabric but is most well known in 500D and 1000D, (the D standing for "denier").
It is often imitated, and many times a "denier war" can be seen on sites like Amazon, where you'll see 500D, 600D, 650D, 1000D, 1050D, etc. But much of that fabric is imported and is not made to the same standards as 500D Cordura.
500D and 1000D are the go-to standards for fabric and if you are in the market for a soft rifle case I would only look at those two numbers as they are more likely to be US-made Cordura.
Rifle Case Interior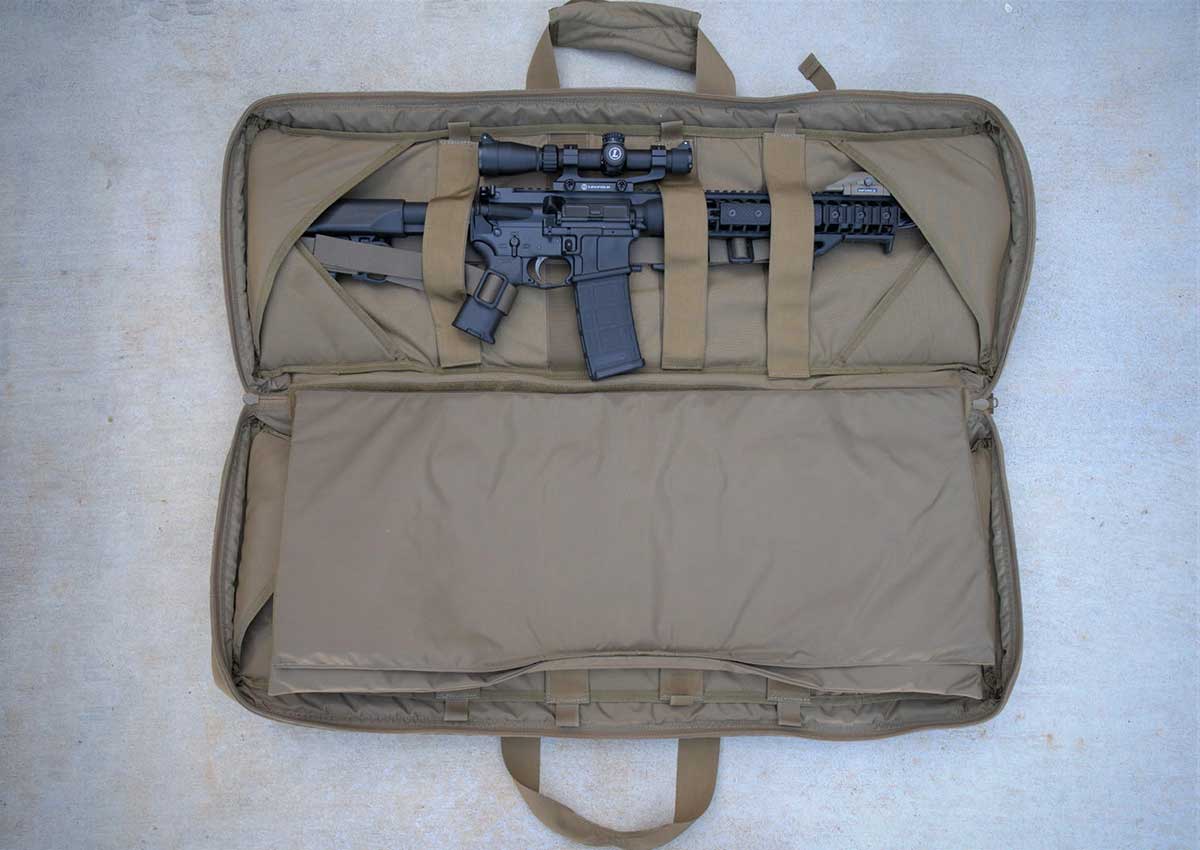 Retention
How your rifle case is retention is set up is extremely important because it determines how your rifle will be held.
Most rifle cases have rifle straps that are either sewn into the case or removable as all our rifle cases have. These straps serve as retention for the rifle and allow you to use as many that are needed to ensure your rifle doesn't slip or move around in the case.
Cases also have buttstock and muzzle slots to allow you to have a more simple retention method. When you are in a hurry and just need to put your rifle in your bag and go the buttstock and muzzle slots are the easiest method to do that.
Foam & Padding
The second most important material in your hard or soft rifle case is foam. Foam comes in many different shapes, sizes, and materials types.
The material of the foam affects the stiffness and the amount of protection it offers your rifle. What you want to look for in your foam is high-density polyethylene foam.
Features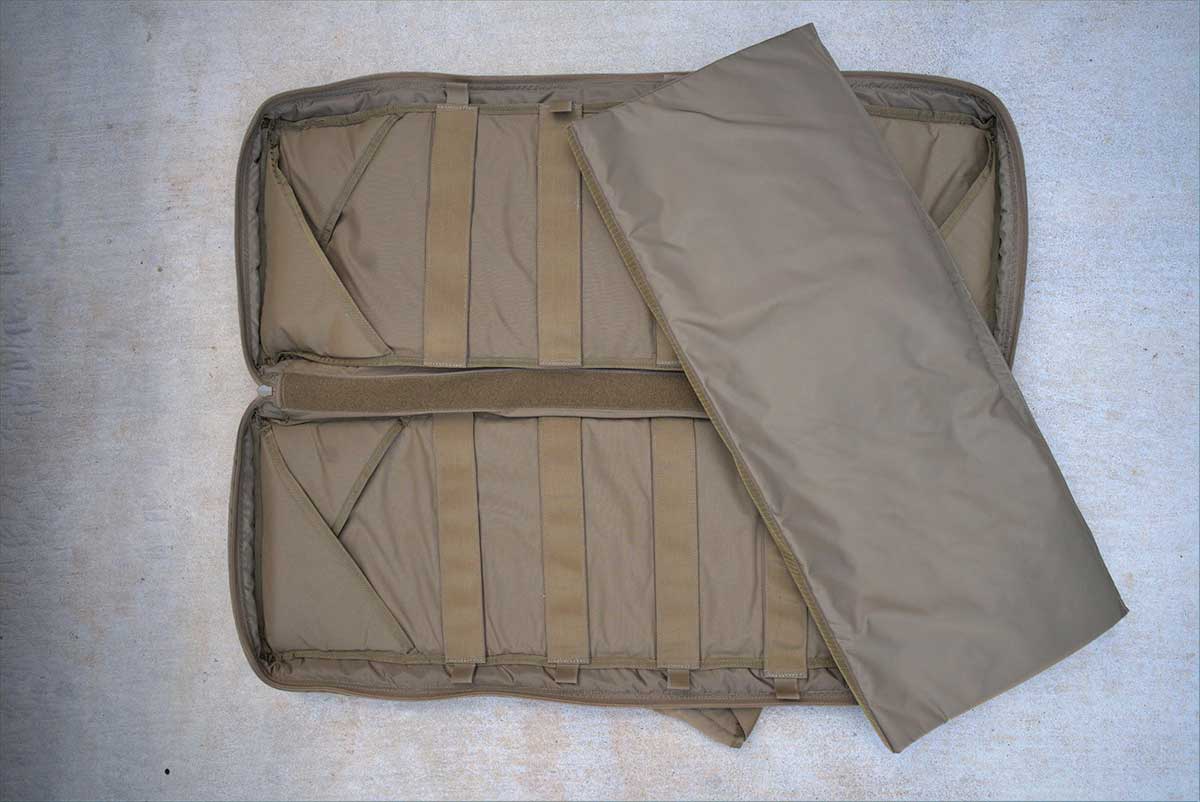 Do you want your AR 15 rifle case to have tons of pockets or molle galore? That's an important thing to look into before you make your purchase. If you need your case to have a look and key you may want to look into a hard rifle case.
Soft case zippers can be locked together but for really tough protection and the ability to really lock down your case, go with a hard case.
So now it's time to choose a rifle case
We hope this helps you decide on how to choose a rifle case. It is rarely easy to pick your rifle case, but hopefully, these points will help make your decision easier. If you still need some help deciding on what range case to purchase, check out Ultimate Gun Bag Guide.
If you need help deciding what to pack in your range bag, head over to our article on what to put in your range bag.
Shoot down to the comments and let us know what case you decided to go with, hard or soft; we won't judge!