U.S.A. –-(AmmoLand.com)- I've carried a lot of handheld lights in my time. From Mini Maglite to Modlite OKW, I've seen the weakest mouse farts and the light of God himself. On top of this, I've had the opportunity to train with some awesome instructors in the world of low/no light shooting using handheld lights. With this in mind, I like to think I have a decent idea of what works, what doesn't, and what I like in a handheld. Now you'd think this would lead me to the latest and greatest light, ready to burn retinas and crack skulls, but that isn't necessarily the case here. Why do I hail the Surefire Stiletto as my favorite handheld light after over two years of carry? Let me tell you.
The Surefire Stiletto has a lot going for it. While several features don't reach the competition, its fusion of features helps it stand above the crowd.
Controls on the Surefire Stiletto
I love the controls on the Surefire Stiletto. These are what I want to see on all of my defensive lights. On the flat body of the light, there are two buttons, one for constant light activation, and one to check the battery life. One press on the activation button for low mode, two for medium, and three for high. Quick presses cycle through the settings, or a slow press turns the light back off. A crescent button illuminates a small LED when pressed, showing in three colors the current charge of your light. This light also turns on when the light is activated.
These constant-on buttons put the light in a sort of TV remote grip. While not ideal for shooting techniques, I find this to be excellent in an administrative function. Buttons are easily accessible with my thumb, and the light is typically resting at hip level, making it easy to point at whatever I want to be illuminated.
The tail of the light features a small button that produces momentary-only light when pressed. Once pressed, the light automatically goes into high output, which is the only mode capable of being accessed with the tail switch. Being mounted on the tail, this button is completely ambidextrous in nature, unlike its constant brethren. This is perfect for its placement, as light techniques used here are primarily focused on shooting, where we want instant access to as much light as possible to positively ID a potential threat.
Output
Thanks to the variable brightness settings on the Surefire Stiletto, I have mixed feelings about its output. Coming in at 5 lumens, the low mode is excellent, giving just enough light to complete tasks without blinding yourself up close. I've also found that low mode is enough to illuminate the 25 yards of my backyard sufficiently to ensure nobody has jumped the fence after dark. However, it likely would not be enough to see details of their face or items carried in their hands.
High mode is a bit of a different story. 650 Lumens and 1,350 candelas aren't terribly impressive, especially in the current world of high output "tactical" style lights. I've been critical of this in the past, as the Stiletto has proven to be less than stellar against photonic barriers such as smoke and fog. However, some recent low light training with Darryl Bolke has changed my philosophy on handheld light use. While I may not be able to dominate a potential threat or illuminate someone across a football field, I've found that the Stiletto is more than capable of providing PID within 25 yards. I consider this sufficient for most problems to be solved with a pistol, though I would appreciate a little more candela without paying double for the Stiletto Pro.
There are a variety of other modes available to the user, but I use them so little I forget they exist. Check out the Surefire manual if you want to know more about that stuff.
Battery Features of the Surefire Stiletto
The Surefire Stiletto features a recharge-only battery, using a USB Micro port for charging. This is located just below the constant-on switch, and is covered with a rubber flap, helping to seal the port from the elements. The recharge-only feature is both a pro and a con in my mind. It's easy to recharge the light from nearly any power source, so long as you have your cable with you. But there's no way to instantly go to full charge like swapping a battery would allow. This can be an issue if you forget cables, battery packs, or more. Though it does allow for the light to remain slim in profile.
As previously mentioned, a three-color LED shows the remaining battery. Using a variety of brightness levels will create a non-linear drain on battery life, so Surefire's quoted battery life is simply a rough hack. I have noticed that a yellow light can quickly turn to red if the user moves from low or medium to high output, then back again when pressing the battery indicator button. In short, keep the light charged to avoid any nasty surprises. My example has lasted between a few days and several months depending on how often its used and what level of output is primarily used. To date, I have not experienced parasitic drain with my Surefire Stiletto.
Overall Design
At first, I thought the slim body was just a marketing ploy, as the Stiletto is flatter but wider than most lights powered by traditional batteries. Turns out I was wrong. As a guy who wears business casual to work most days, having a lump on my hip is a little unprofessional. Luckily, the Stiletto keeps my profile pretty trim. It also helps when worn in deep concealment, strapped to a PHLster Enigma or similar, hidden below the waistband of my pants. Texturing on the light body is mild at best, but the overall shape keeps it locked into my hands fairly well. The relative light weight of the Stiletto also makes it a good candidate for hands-free use (read: in my mouth) when working around the house or in my car.
The pocket clip is uni-directional, which is a bit of a bummer, but the design is solid. The Stiletto stays firmly in my pockets when seated or during excessive movement with no problem. It also provides a little extra purchase when using the light as well.
Final Thoughts on the Surefire Stiletto
It might not be the brightest, toughest, or fanciest light, but the Surefire Stiletto is a damn good choice. With enough light to get the job done and a great reputation for reliability, I have no hesitations carrying it the vast majority of the time. If you're looking for a solid all-purpose or administrative light, give the Surefire Stiletto serious consideration.
---
About Dan Reedy
Dan is an Air Force veteran, avid shooter, and dog dad. With a passion for teaching, he holds instructor certifications from Rangemaster, Agile Training & Consulting, and the NRA. He has trained with Darryl Bolke, Mike Pannone, Craig Douglas, among several other instructors, amassing over 400 hours of professional instruction thus far. In his spare time you'll find him teaching handgun, shotgun, and less lethal classes.
Dan's work has been published by Primer Peak, and The Kommando Blog, and he has been featured as a guest on Primary & Secondary.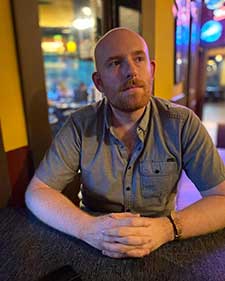 Source
Surefire Stiletto Handheld Light Review is written by Dan Reedy for www.ammoland.com