U.S.A. -(AmmoLand.com)- Recently I was on a plane flying into Aberdeen, South Dakota. In talking to the passenger sitting beside me I soon discovered that her husband was a guide and owned the Coyote Trail Buffalo Ranch, which is advertised as a 7,300-acre outfit. Upon landing one thing soon led to another and me and her husband Randy Barondeau were lined up to go pheasant hunting.
I now forget the timing of everything but I was flying into Aberdeen for another deal and was really planning on testing my new Anderson 5.56 but luckily also had a shotgun with me but didn't have any shells. I grabbed a few boxes of Kent Cartridges Bismuth Upland 2 ¾-inch 5 Shot.
I went with 5 Shot because it was a little later in the season so I figured they would be flushing out in front of us a bit and be hard to bring down with 6-shot. I wanted the Bismuth shot because I may later be hunting on public ground for a day or two and in South Dakota you can't use lead shot on public ground.
D-Day arrived and I drove out to his ranch and was met at the lodge by him and his son-in-law Jake. They showed me around their lodge and then their barn where Jake was cutting up a few of their customer's deer. Randy then took me around and showed me his buffalo herd, elk and then we drove around and saw a few deer.
Now it was time to pheasant hunt. Randy said he had a big shelter belt and we'd go check it out. Wow, there were around 40 pheasants coming out of the shelterbelt headed out to feed in the adjoining cornfield when we got there.
We parked and walked the field kicking out birds and shooting as we went. Ok, good. The Kent's Bismuth Upland 5-shot was reaching out and tapping pheasants fine. Whew, I'd made a big mistake and forgotten my chokes and only had the Dove choke that was in my Winchester. I'd called Trulock and they overnighted me a few chokes. I slapped in a full choke for this hunt and half the time thought about switching over to a Modified since some birds were holding tight.
We got to the shelterbelt and Randy told me to hide at one end and he'd trot down to the other end and push towards me. I'd barely gotten into position before a few started busting out. Oops, I needed to jump over about 50 yards.
Now birds started really pouring out. Shooting got hot and heavy. Suddenly my gun jammed. It took me forever to get it unjammed. I always carry a can of aerosol oil for my semi-autos while bird hunting but hadn't on this hunt. I've just had too many hunts messed up because of semi-autos jamming.
Wow, I don't think that I'm exaggerating to say that we saw over 300 birds in that short afternoon hunt. And all of Randy's birds are wild birds. To my understanding, a lot of the South Dakota hunts anymore are penned birds. Wild birds are a lot more skittish, harder to hunt and aerial acrobats which makes them harder to hit.
What a great hunt. If you want to get in on a great bird, deer, or buffalo hunt give him a call. https://www.landtrust.com/l/coyote-trail-buffalo-ranch/617dee66-b7e6-48de-b816-e08bc9036b17/a/hunt
For this hunt, I was using the Kent Bismuth Upland 2 ¾-inch 5-shot which worked great for me. But as tough as pheasants are, I'd recommend their 3-inch Bismuth Upland 5-shot, even though the 2 ¾'s worked fine for me.
I used to live in Nebraska right after college and did a ton of pheasant hunting. We just don't have that many pheasants anymore in Idaho so my shooting has gotten sloppy. This next November I have to rectify that problem. Kent-be loading up a boatload of shells for me. I'm going to be making up for lost time!
---
About Tom Claycomb
Tom Claycomb has been an avid hunter/fisherman throughout his life as well as an outdoor writer with outdoor columns in the magazine Hunt Alaska, Bass Pro Shops, Bowhunter.net, and freelances for numerous magazines and newspapers. "To properly skin your animal, you will need a sharp knife. I have an e-article on Amazon Kindle titled Knife Sharpening #ad for $.99 if you're having trouble."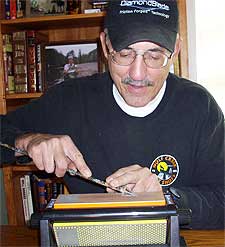 Source
Kent Bismuth Upland Shells are a Must for Pheasants is written by Tom Claycomb for www.ammoland.com