U.S.A. –-(AmmoLand.com)- A Republican State Senator in New Mexico has introduced legislation to require all individuals employed in film productions in the state where firearms and/or ammunition are on the set to take firearms safety training, the latest fallout from the tragic fatal shooting of cinematographer Halyna Hutchins by actor/producer Alec Baldwin during the filming of the movie Rust last fall.
State Sen. Cliff Pirtle (R-32nd District), the ranking member on the Senate Judiciary Committee in Santa Fe, introduced Senate Bill 188. The headline is, "An act relating to public safety; requiring certain persons employed in filmmaking to complete Hunter Safety Training."
Baldwin has denied actually pulling the trigger on a "prop" single-action firearm he was holding during the rehearsal of a scene last Oct. 21 on the film set southwest from Santa Fe. Hutchins was hit almost point-blank by a projectile fired from the gun. Nobody has been able to determine how live ammunition got on the film set and how a live round got into the revolver handed to Baldwin. The investigation is continuing.
According to Deadline, Santa Fe attorney Kristina Martinez has petitioned a New Mexico state court in Santa Fe County "solely for the purpose of investigating and pursuing a lawsuit under the New Mexico Wrongful Death Act in the courts of New Mexico." The Hutchins family has also reportedly spoken with attorneys in California.
And the Hollywood Reporter has revealed Baldwin will make an appearance as a "Special Guest Programmer" at the Boulder, Colo. International Film Festival, scheduled March 3-6.
While the film production has been suspended, Sen. Pirtle's legislation may add a bit more drama. Under the bill's language, "All individuals employed in New Mexico by a film production company that has firearms or firearm ammunition physically located on the premises where filming is taking place shall have a valid certificate of competency in the safe handling of firearms pursuant to the Hunter Training Act."
To add compliance incentive, the measure says this: "A film production company that employs individuals not in compliance with the provisions of Subsection A of this section shall not be eligible for tax credits pursuant to the Film Production Tax Credit Act, including film and television tax credits for the calendar year in which the violation occurs."
Sen. Pirtle told The News International, "Unfortunately, to the Hollywood elite, the talk around guns is all too abstract. This is a simple bill to bring some gravity back to the use of firearms on film sets."
Since the shooting, which also wounded director Joel Souza, reports have circulated alleging lax firearms handling on the film set.
The News International story noted that Pirtle "has handled firearms on film sets while acting in minor roles for Western movies, such as Deadman Standing in 2018 and Death Alley in 2021." In real life, he's a partner in a farming business, and he lives in Roswell. He is also an "ardent supporter of gun rights," the newspaper said.
If SB 188 passes the New Mexico Legislature, it would become law on Jan. 1, 2023. The current legislative session is a short one, scheduled to wrap up Feb. 17, which does not give the bill much time to move, and since Democrats hold the majority, it would be speculation to suggest it may move at all.
Baldwin has handled firearms in previous films, including a remake of The Getaway, and The Hunt for Red October. So far, no criminal charges have been filed. The Santa Fe Sheriff's Department is leading the investigation and a spokeswoman for Gov. Michelle Lujan Grisham reportedly told The International News that safety regulators from the state Environmental Department are also investigating.
Following the shooting, the Citizens Committee for the Right to Keep and Bear Arms issued a bristling statement declaring, "Baldwin bears responsibility as the film's producer as well as its star, because he evidently did not personally check the gun he was handling to confirm there was not a live round in the cylinder. He did not follow the first rule of genuine gun safety, which is that all guns are always loaded."
CCRKBA Chairman Alan Gottlieb bluntly stated, "This horrible tragedy underscores the importance of genuine firearm safety as advocated and practiced by gun rights organizations, firearms instructors and responsible American gun owners for generations. We've noticed there has not been a peep from the gun control lobby, which portrays itself as the pillar of 'gun safety,' and with which Baldwin has previously aligned himself. It's too bad those groups don't teach actual gun safety instead of using the term 'safety' as a substitute for 'ban.'"
NBC News recently reported that "Baldwin and his fellow "Rust" producers have asked a Los Angeles judge to dismiss a lawsuit by the movie's script supervisor, who claims she was hurt in last year's fatal on-set shooting."
The plaintiff, in that case, is script supervisor Mamie Mitchell, who reportedly contends she suffered "serious physical trauma and shock and injury to her nervous system" because she was standing next to Hutchins when the fatal shot was fired. Baldwin's attorneys argued Mitchell should file a workers' compensation claim in New Mexico, rather than Los Angeles, NBC News reported.
And the Los Angeles Times reported that Hanna Gutierrez Reed, the armorer for the Rust film and daughter of legendary Hollywood armorer and gun expert Thell Reed, filed a lawsuit against the weapons provider for the film, "alleging he supplied a mismarked box of ammunition containing live rounds to the set."
It is not clear, still, how the live round actually got into Baldwin's gun, since it should be relatively easy to tell the difference between a blank cartridge with a crimped mouth and a live round containing a bullet.
---
About Dave Workman
Dave Workman is a senior editor at TheGunMag.com and Liberty Park Press, author of multiple books on the Right to Keep & Bear Arms, and formerly an NRA-certified firearms instructor.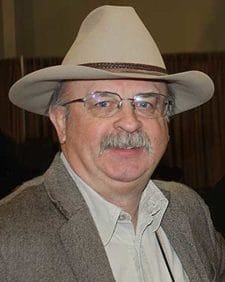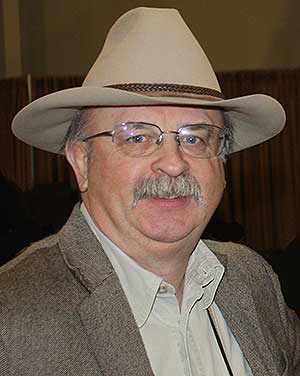 Source
N.M. State Senator Files Bill Requiring Safety Training for Movie Actors is written by Dave Workman for www.ammoland.com